All Time Best Bengali Movies(Comedy)
1. Mohunbaganer Meye (1976)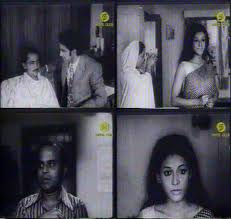 B&W. 35mm.
Ratings: 7.4/10
Producers- Kalimata Productions
Story Writer- bahurupee
Script Writer- Salil Sen
Director- Manu Sen
Photography- Manish Dasgupta
Editor- Dulal Dutta
Lyrics- Pulak bandopadhyay, Shibdas Bandopadhyay Mus- Hemanta Mukhopadhyay
Playback- Hemanta Mukhopadhyay, Haimanti Shukla, Anup Ghoshal
Cast :
Rajasree Bose,
Dipankar Dey,
Utpal Dutta,
Rabi Ghosh,
Sobha Sen,
Jahar Ray,
Tarun Kumar,
Chinmoy Ray,
Nripati Chattopadhyay,
Ruby Dutta,
Bhanu Bandopadhyay,
Madhumita,
Subrato Sensharma
Distributors- G.S. Film Distributors
Released on 16.4.76 at Sree, Indira
2. Galpa Holeo Satyi(1966)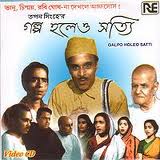 A new servant comes to a family which is suffering from internal tension within. The new servant-whose identity is itself
under suspicion-gradually becomes lovable to all of the family members including the old ailing family head. The story
unravels how this new man in their life help each of the family-members find out new meaning to their individual lives as
well as find out the happiness of a close-knit family.Rabi Ghosh,in the character of the new servant, excels among all the
steller actors. Later the film was remade in Hindi as Bawarchi starring Rajesh Khanna in the title role.
Cast
Jogesh Chattyapadhyay,
Rabi Ghosh,
Prasad Mukhopadhyay,
Bankim Ghosh,
Bhanu Bandyapadhyay,
Ajoy Gangopadhyay,
Partha Mukhopadhyay,
Chhaya Debi,
Bharati Debi,
Krishna Bose,
Mumtaj ahmed,
Bolin Som,
Rudraprasad Sengupta,
Chinmoy Ray,
Sadhan Sengupta,
Tapan Bhattyacharya,
Nirmal Chattyapadhyay,
Hasi Majumdar,
Khagesh Chakroborty,
Mrinal Mukhopadhyay,
Subhabrata Gupta,
Jyotsna Mukhopadhyay
3. Sharey Chuattar(1953)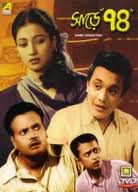 Cast
Bhanu Bannerjee … Kedar
Gurudas Bannerjee … Ramola's father
Sital Bannerjee … Resident at the mess
Dhananjoy Bhattacharya … Akhil Babu
Panchanan Bhattacharya … Elderly resident at the mess
Reba Bose
Tulsi Chakraborty … Rajanibabu
Molina Devi … Rajanibabu's wife
Nadadwip Halder … Madan
Roy Jahar … Kamakhya
Uttam Kumar … Rampriti
Suchitra Sen … Ramola
Shyam Laha … Resident at mess
Shyamal Mitra
Haridhan Mukherjee … Shib Babu
Manabendra Mukherjee
4. Kanchanranga(1964)
B&W. 12 Reel. 35mm.
Producers- Chalachchitra Prayas Sangstha
Story Writer,Script Writer- Sambhu Mitra, Amit Maitra
Director- Amar Gangopadhyay Photography- Deojibhai Padhihar
Art- Sunil Sarkar
Editor- Madhusudhan Bandyapadhyay
Lyrics- Pranab Ray
Music- V. Balsara
Playback- Manna Dey, Manabendra Mukhopadhyay, Nirmalendu Chowdhury, Ila Bose
Cast
Arun Mukhopadhyay,
Tripti Mitra,
Gangapada Bose,
Latika bose,
Sobhen Majumdar,
Tarun Kumar,
Subrata Chattyapadhyay,
Kumar Ray,
Bipin Gupta,
Sunil Sarkar
Distributors- Chandimata Films pvt. Ltd.
Released on 20.11.64 at Uttara,Bijoli, Chhabighar
5. Sriman Prithviraj (1973)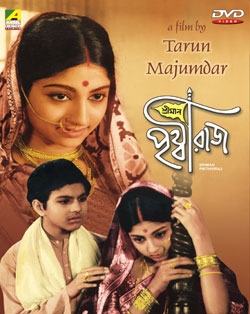 Sriman Prithviraj proved it yet again. Ayan Banerjee and Mohua Roy Chowdhury as the child-couple are still remembered lovingly. Such a simple story of love is entertaining as well as inspiring. Moreover, the blend of the pre-Independence political backdrop with the simple love life of the newlywed is excellently portrayed. On one hand you have the caricature of a typical Babu, who's hell-bent on getting the 'Raibahadur' title from the British rulers played excellently by non other than Utpal Dutt, and on the other hand you have Biswajit, a Swadeshi who's out to teach the British rulers a lesson. But still the main focus remains on Ayan, a notorious boy. To curb him, his parents get him married to Utpal Dutt's daughter, Mohua. But he creates havoc in his in-laws' house as well. The brilliant interplay between the two, their becoming friends, missing each other, understanding responsibilities towards each other all make for a charming love story.
And at the end of it all, it's pure fun.This is essentially a comedy with Tom Sawyeresque leanings laced elegantly into the ever-transforming fabric of Bengal of the late 19th or early 20th century. In the subtle backdrop of the Indian freedom movement, it is the story of the transformation of a young boy's innocent but naughty childhood to an appreciation of the Swadeshi movement and the growth of adolescent love for a girl even younger than he was. The comedy is exceedingly natural and free-flowing. It includes a number of beautifully rendered traditional Bengali songs and is punctuated by a series of stand-offs faced by the young
boy, mostly with unfavourable results for the opposing party. At heart, it is a beautiful pre-pubescent/adolescent love story. It was a huge box-office success when it came out and is an oft-watched movie even today.
6. Dhanyee Meye (1971)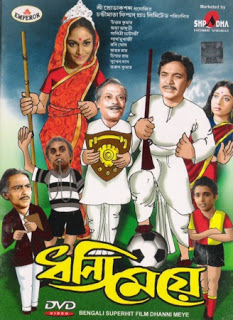 No village football match had more intrigues and was more passionately contested than this Uttam Kumar-Jaya Bhaduri Bengali
film
Cast
Jaya Bhaduri
Sabitri Chatterjee
Tapan Chatterjee
Sunil Das Gupta … Bairagi
Sukhen Das
Robi Ghosh
Roy Jahar
Uttam Kumar
Partho Mukerjee
Haridhan Mukherjee
Chinmoy Roy
7. Goopy Gyne Bagha Byne(1968)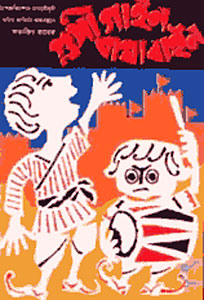 The story revolves around Gopinath Kyne (alias Goopy, played by Tapen Chatterjee), the son of a poor grocer Kanu Kyne from
a village called Amloki. Goopy wants to become a singer but has a hoarse voice. Persuaded by village elders to sing for the
king, he does so and is driven out of Amloki on a donkey for waking the king with his terrible singing. Exiled into a
forest, he meets Bagha (Rabi Ghosh), another exile from nearby Hortuki sent to the forest – in Bagha's case, due to playing
a drum badly. They start singing and drumming, initially to scare off a roaming tiger, and in the process they attract a
group of ghosts who are fascinated by their music. The king of ghosts grants them three boons:
They can get food and clothes whenever needed by clapping their hands,
They are given a pair of magic slippers with which they can travel anywhere,
They gain the ability to hold people in awe (literally, their music renders people motionless) with their music.
They travel to Shundi, where a benevolent king appoints them court musicians. However the king of Halla (the long lost
brother of the king of Shundi) is planning to attack Shundi, after being poisoned with magic potion that makes him evil,
given to the king of Halla by his self-centered prime minister. Goopy and Bagha travel to Halla in an attempt at preventing
the attack, but are captured instead. Since they have now lost their slippers, they can't escape by magic, but manage to do
so instead by strategy. They arrive singing and drumming when the soldiers are about to launch their attack, capturing the
king of Halla, who is returned to Shundi. The two brothers are reunited and Goopy and Bagha marry the daughters of the two
kings.
Cast
Tapan Chatterjee – Goopy
Robi Ghosh – Bagha
Santosh Dutta – King of Shundi / King of Halla
Harindranath Chattopadhyay – The Magician
Ajoy Banerjee – Visitor to Halla
Ratan Banerjee – Court singer at Shundi
Durgadas Bannerjee – King of Amloki
Binoy Bose – Village elder / visitor to Halla
Govinda Chakravarti – Goopy's father
Abani Chatterjee – Village elder
Kartik Chatterjee – Court singer at Shundi / visitor to Halla
Santi Chatterjee – Commander of Halla army
Gopal Dey – Executioner
Shailen Ganguli – Visitor to Halla
Roy Jahar – Prime Minister of Halla
Tarun Mitra – Court singer at Shundi
Haridhan Mukherjee – Village elder
Prasad Mukherjee – King of ghosts / village elder
Khagen Pathak – Village elder
Chinmoy Roy – Spy of Halla
Joykrishna Sanyal – Court singer at Shundi
Mani Srimani – Visitor to Halla
8. Hirak Rajar Deshe(1980)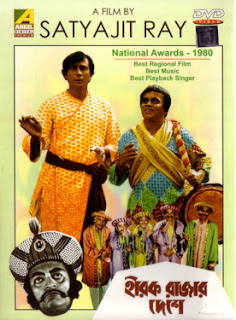 The magically musical duo of Goopy Gyne and Bagha Byne make a comeback in this sequel, where they are invited to the court
of the Hirak Raja (The Diamond King), for their musical skills. They are to perform at the kingdom's Jubilee Celebrations.
Goopy and Bagha are bored with their lives as crown princes of Shundi and Halla. They are looking for a change, which comes
in the form of a chance to visit Hirak Rajya(Land of Diamonds), known for its huge diamond mines. They jocundly set out for
Hirak Rajya. But little do they know of the mechanitions of Hirok Raja (Utpal Dutt). The king is a tyrant. Diamonds and
riches get pent up in his treasuries, while his subjects starve and suffer. Those who protest, are taken care of in the
'Jantarmantar', a chamber for brainwashing devised by the scientist (Santosh Dutta), whose full name is Gobeshok
Gobochondro Gyanotirtho Gyanorotno Gyanambudhi Gyanochuramoni. His ministers are mere puppets. The only enemy the king has
in his land is Udayan Pandit (Soumitra Chatterjee). He is a local school teacher, but more than that he is a believer of
values. The king forcefully closes his school down. Udayan flees to hide in the mountains. Meanwhile, Goopy and Bagha are
on their way to Hirok Rajya. By coincidence, they meet Udayan, who intimates them of the king's true nature. The two
impress Udayan with their magical powers, who plans to use them against the tyrant. Goopy and Bagha agree. The duo then
head into Hirok Rajya, where they are welcomed with grandeur. They entertain the rogue king, but also start plotting the
overthrow, by brainwashing the king himself. They rob the treasury (which incidentally was guarded by a tiger), for bribing
the guards. But the king has his tricks too. He captures Udayan and all his students, and takes them to the Jantarmantar
for 'processing'. But Goopy Bagha have already reached there using their magical powers. They have also bribed the Gobeshok
into their side, along with the guards. On reaching the Laboratory, the king and his ministers are stunned magically by
Goopy's singing, and then pushed into the Jantarmantar.
Cast
Goopy … Tapen Chatterjee
Bagha … Rabi Ghosh
Hirak Raja … Utpal Dutt
Udayan Pandit … Soumitra Chatterjee
Shundi Raja … Santosh Dutta
Gobeshok Gobochondro Gyanotirtho ,Gyanorotno Gyanambudhi Gyanochuramoni, A.K.A. Scientist … Santosh Dutta
Prohori (Sentry) … Kamu Mukhopadhyay
Udayan's Father … Promod Ganguli
Udayan's Mother … Alpana Gupta
Charandas … Rabin Majumdar
Fazl Mia … Sunil Sarkar
Balaram … Nani Ganguli
Bidusak … Ajoy Banerjee
Court Poet … Kartik Chatterjee
Court Astrologer … Harindhan Mukherjee
Ministers … Bimal Deb, Tarun Mitra, Gopal Dey, Sailen Ganguli, Samir Mukherjee
9. Bancharamer Bagan (1980)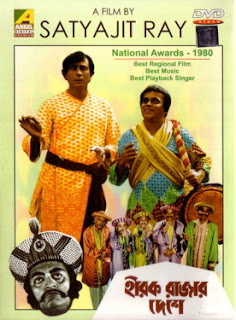 Tapan Sinha's BANCHARAMER BAGAN saw one of the finest perfomances delivered by Manoj Mitra as an old gardener. Bancharam was the owner of a plot of land where he made his beautiful garden. The evil zamindar of the locality, an avaricious man (by his own son's admission in the film) sets his eyes on this garden and wants to usurp it. But adamant that Bancharam is,
not to sell it, the landlord employs goondas to drive him out of the area. While fleeing for his life, Bancharam takes shelter in a forest. Luckily for him, the Magistrate (a foreigner), who was hunting, catches him and on hearing his plight takes pity on him. The magistrate warns the landlord that if ever he sets foot on Bancharam's garden, the landlord would have to pay dearly for this. The landlord felt very humiliated, because he received the warning because of a very small gardener. That night he starts behaving abnormally (whenever he is angry, it is his usual behavior) and kills himself. Twenty years later a new zamindar takes over an ailing Bancha's land and agrees to pay Rs 400 a month till his death. Bancha recovers but the zamindar wants him to die and serves an ultimatum. One day he comes ready to perform the funeral,
but Bancha, blessed with a grandson, wants to live. Chaplinesque in its approach, the film depicts the tragedy of a small man in this big world.
Cast
Biplab Chatterjee … Hontka and Kontka
Dipankar Dey … Chhakari
Robi Ghosh … Doctor
Nirmal Kumar … Laywer
Manoj Mitra … Bancharam
Devika Mukherjee
Madhabi Mukherjee … Chhakari's wife
10. Basanata Bilap (1973)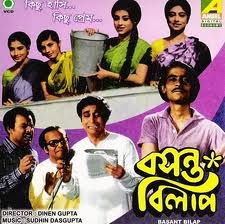 Basanta Bilap is a wonderful drama with Soumitra-Aparna, another great pair of the later-Uttam Kumar period. It is about the fight betwen the girls' and the boys' group, who play pranks on each other, take vows not to fall in love, and then every single one does.
Cast
Sibani Bose
Soumitra Chatterjee
Robi Ghosh
Kajal Gupta
Anup Kumar
Tarun Kumar
Kanika Majumdar
Amarnath Mukherjee
Haridhan Mukherjee
Sumitra Mukherjee
Chinmoy Roy
Aparna Sen
11. JAMALAY JIBANTA MANUSH(1958)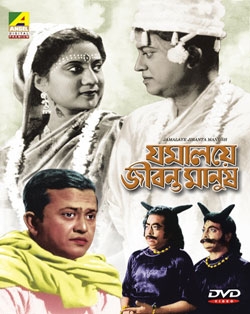 Cast
Bhanu Bannerjee,
Ranibala,
Kali Bannerjee,
Jahar Ganguli,
Chhabi Biswas,
Kamal Mitra,
Nripati Chatterjee,
Haridhan Mukherjee
Director: Prafulla Chakraborty
Music Director: Shyamal Mitra
12. Ashite Ashiona(1967)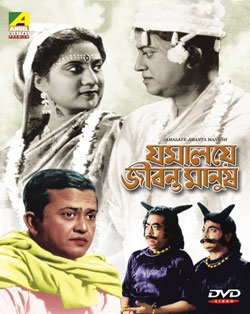 Director: SHREE JAYADRATH,
Music Director: GOPEN MULLICK,
Cast
ASIT BARAN,
ROBI GHOSH,
JAHAR ROY,
BHANU BANERJEE,
TARUN KUMAR,
KAMAL MITRA,
RENUKA ROY,
RUMA GUHATHAKURTA
13. Chhadmabeshi (1971)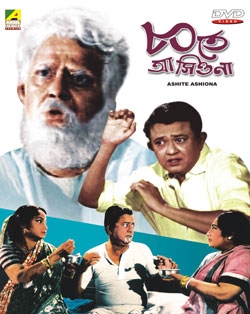 Abanish Sen (Uttam Kumar), a professor of Botany, plays a practical prank on his brother-in-law, Barrister Prasanta Ghosh
(Bikash Ray), who stays in Allahabad.
He charades as a driver and seeks employment under Ghosh. Since Ghosh is a stickler for good manners and impeccable prowess
over Bengali, Sen presents a blemish-free profile. The Ghoshs are happy with him, mainly because Moshaheblal, their other
driver, is cheeky and inept. He robs his employer of petty sums complaining of niggling techninal motor problems. So,
Gourhari appears a Godsend.
Well, not for long. Soon he drives Ghosh and his wife, Sumitra (Anubha Gupta) to exasperation with his verbose nature. He
keeps pelting them with silly queries, raising questions on the funniness of the English language (read the redundancy of
'p' in 'pneumonia' and 'ph' in 'phthysis') and brazenly retaliates to every small admonishment. When rapped a bit harder,
he softens his voice to say, "Gorib boley apni amon korchen." (I'm poor hence you are behaving like this). Soon Ghosh and
his wife loose their peace, thanks to Gourhari's comical grind.
Then comes the news that Abanish's wife, Sulekha, will be soon visiting the Ghoshs. (she is Sumitra's sister). Gourhari's
eyes brighten, much to the irritation of the Ghoshs, who find a servant's joy at Sulekha's arrival highly inappropriate.
But, Gourhari cooks up a story of his acquaintance with Sulekha and says that, "I like her very much and she loves me too!"
Sulekha arrives and makes herself comfortable in the charade. She pretends to know Gourhari and hardly talks of Abanish,
her boring husband. The Ghoshs are further annoyed when she talks to him endlessly, sings with him, sits with him in the
front seat in the car and has only pleasant things to say about this unnerving irritant. The Ghoshs keep worrying that when
Abanish will come to Allahabad, he will get extremely angry seeing his wife getting cozy with this servant! Then suddenly
one day Sulekha elopes with Gourhari, increasing our fun and the Ghoshs' worries…
The comedy increases when Abanish's friend, Subimal presents himself as Abanish, and pretends to be very hurt and angry
with Sulekha when he arrives at Allahabad. He puts up at Binoy's place (Binoy is Abanish's dear friend and a party to the
charade) and happily falls in love with Boshudha, his cousin! Much to the displeasure of Binoy's wife, Latika, played very
well by Samita Biswas. (The Hindi one had the cute Lily Chakraborty in this role). The Ghoshs are now dumbstruck and we are
left in splits…
The hindi version is the same, with a few tiny changes here and there (Hindi is stressed on instead of Bengali and the
action shifts from Allahabad to Mumbai). But, the major difference is in the execution. Well, I won't say that the Bengali
one is bad. In fact, it is very good. You cannot go wrong if you have Uttam Kumar with a bundle of comic tricks up his
sleeves. It is infact Bikash Ray who disappoints. While you laugh away at Om Prakash's expressions as Raghavendra Sharma,
the baffled brother-in-law who is at the receiving end of Pyare's antics, you keep wondering why Ray does not emote enough.
He is a bit stiff. His chemistry with his fellow actors lacks steam. When Om Prakash tells Sumitra, "E Sumi, tu is tarha
mere samne use Pyare Pyare mat bulaya kar, mujhey lagta hain mera patta kat gaya…" I find myself chuckling at his cute
self. Prakash is crazily funny. His slur is so hilarious that you will your find your eyes moistening. And, when he has
those verbal duels with Pyaremohan Illahabadi, you will find sitting straight difficult! When Sulekha elopes with Pyare, he
suggests to Sumitra that they should elope too
Cast
Jyotsna Biswas … Basudha
Samita Biswas … Latika
Subhendu Chatterjee … Subimal
Anubha Gupta … Labanya
Roy Jahar … Driver
Tarun Kumar … Binoy
Uttam Kumar … Abanish alias Gourhari
Ashok Mitra … Haripada
Madhabi Mukherjee … Sulekha
Bikash Roy … Prashanta
14. Ogo Bodhu Sundari(1981)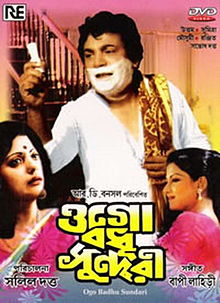 Gagan ( Uttam Kumar)did not like to socialise while his wife Chitra(Sumitra Mukherjee) loved attending parties. One day
Chitra's friend Lola invited her to a party. In the meanwhile the Kolkata Book Fair took off and so Gagan wanted to go to
the book fair. Savitri (Moushumi Chatterjee) lived with her uncle from an early age. One day her uncle sold her for some
money from where Savitri escaped and took shelter in Gagan's house. When Gagan's wife saw Savitri in Gagan's reading room,
she went to her grandfather's house. Gagan and Abalakanta (Santosh Dutta) helped Savitri learn etiquettes and the ways of
genteel society. One day Gagan thought of an alliance between Savitri and Abalakanta. But Savitri did not agree to marry
Abalakanta. In the meanwhile Sandip (Ranjit Mullik) came and was confused on seeing Savitri. Gagan then realised about
their love. So he arranged for Sandip and Savitri's marriage in his house. But Chitra's servant gave the information to her
that Gagan was getting married to Savitri. So Chitra came to the house with her grandfather. Finally Chitra realised that
the bridegroom was her brother Sandip. The film thus ends on a happy note.
Cast
Moushumi Chatterjee
Santosh Dutta
Uttam Kumar
Sumitra Mukherjee
Ranjit Mullik
Bikash Roy
15. Bhanu Pelo Lottery(1958)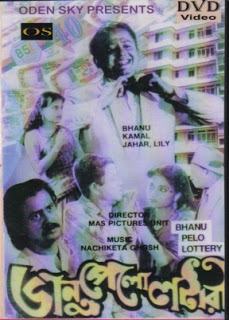 Bhanu Chitrakar (Bhanu Bandopadhyay) is a village-based clay modellist who earns a living selling earthen toys and singing.
One day, he is presented a ticket for the Luck Velky Lottery by his Kolkata-based friend Jahar (Jahar Roy), with the first
prize for the lottery standing at Rs 395,000. While Bhanu initially refuses to accept the ticket, he is finally coaxed into
buying them, and goes to bed with the ticket stuck to his chest expecting the telegram announcing him as the winner to
arrive anytime the next morning.
Bhanu receives the telegram informing him that he indeed is the lucky winner of Rs 395,000. With Jahar in tow, he goes to
Kolkata to collect his winnings. His awkwardness in the big city lead to innumerable faux pas, and things get more
complicated for him when Mini Mitra or Mimi (Lily Chakraborty), Jahar's paramour, gives him her undivided attention with
the intention of obtaining some of his prize money to forge a film production career for herself. When Jahar finds out that
he is being cheated by his best friend, he threatens the latter with a gun. Bhanu escapes, and in the climax of a chase
sequence, is shown flying through the air hanging onto a gas balloon, out of reach of his pursuers. The balloon however
pops in the end and Bhanu falls straight into the Hooghly.
At this point, Bhanu wakes up and realises that the entire Kolkata episode has been a dream. Jahar now comes with the news
that Bhanu has won the lottery in reality. But horrified at the thought of sexual politics and the loss of his best friend
over money, Bhanu now has no desire for the Rs 395,000 and urges Jahar to distribute his winnings among the needy.
Cast
Bhanu Bandopadhyay as Bhanu Chitrakar
Jahar Roy as Jahar
Lily Chakraborty as Mini Mitra
Kamal Mitra as Jahar's uncle and Mini's former employer
16. Personal Assistant (1959)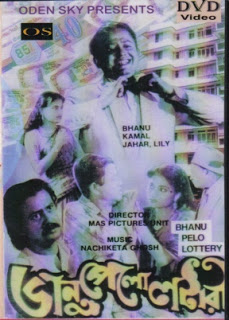 Cast
Bhanu Bannerjee … Rama Gupta
Tulsi Chakraborty … Publisher
Nripati Chatterjee
Subrata Chatterjee … Office assistant
Ruma Guha Thakurta … Rumali Sen
Tarun Kumar … Rama's friend
Amar Mullick … Mr.Ghosh
Renuka Roy … Medini Debi
Pahadi Sanyal … Rumali's father
Chitra Sen
17. Dadar Kirti (1980)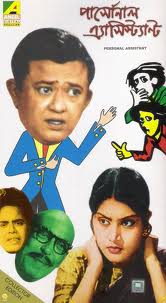 Advocate Nivaran Chatterjee lives a wealthy lifestyle in a small town along with his wife, and three sons. His first son is
married, while his second son, Kedarnath, who suffered a head injury, is a little senile, and his third son, Amarnath, is a
brilliant student. Amarnath falls in love with Beeni Mukherjee, who is a good student, has an elder dominating sister,
Saraswati, who is brilliant. Kedar is attracted to Saraswati but lacks the courage to approach her. Then some of his
friends introduce him as a brilliant student and athlete to Saraswati's dad, who approves of him. Kedar meets with
Saraswati, who also approves of him, and both are slowly drawn to each other. It will not be long before Saraswati finds
out that Kedarnath is a fraud, will give up on him, and get ready to marry a wealthy Bhagalpur-based man of her father's
choice.
Cast
Laxmi Adhikari
Safali Bandopadhyay
Ayan Banerjee … Amarnath 'Amar' N. Chatterjee
Kaushik Banerjee
Kali Bannerjee
Samit Bhanja
Arundatti Bhattacharjee
Mandira Chakraborty
Sonali Chattopadhyay
Srabani Chattopadhyay
Sulata Chowdhury
Dipika Das
Indulekha Devi
Ruma Guha Thakurta
Anup Kumar
18. MRITER MARTE AGAMON(1959)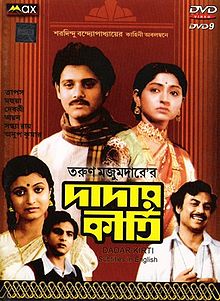 Director: PASHUPATI CHATTERJEE,
Music Director: AJIT MITRA, MONMATH DAS,
Cast
CHHABI BISWAS,
BHANU BANERJEE,
TULSI CHAKRABORTY,
JAHAR ROY,
BASABI NANDI
19. Mouchak(1975)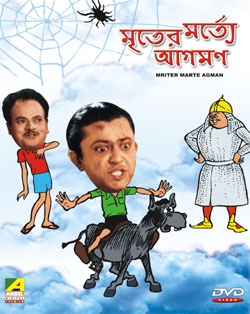 A newly appointed good-looking officer catches the eyes of the fathers of would-be-brides. But he has some other plans.
Cast
Sabitri Chatterjee
Robi Ghosh
Anup Kumar
Uttam Kumar … Nitish Roy
Amarnath Mukherjee
Mithu Mukherjee … Nipa
Ranjit Mullik … Sitish Roy
20. Lukochuri (1958)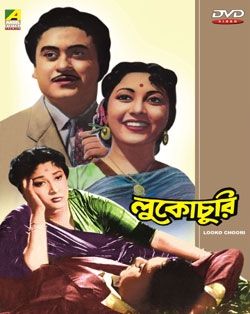 Cast
Kishore Kumar
Mala Sinha
Bipin Gupta
Anita Guha
Anup Kumar
Rajyalakshmi
Nabyendu Ghosh
Nripati Chatterjee